Book Review: 5 great books to boost your virtual teams' performance
As we've heard from many of our participants in our virtual team seminars , the challenges of virtual teams are similar to the challenges of face-to-face teams but magnified. Additionally, new challenges arise, such as the impact of a lack of contact on the social glue that holds teams together, and matching the right technology to the right task. The sources we've looked at below continue to help us to focus on practical solutions to the real-world problems and opportunities virtual teams present. We hope they will help you to succeed in a virtual environment as well.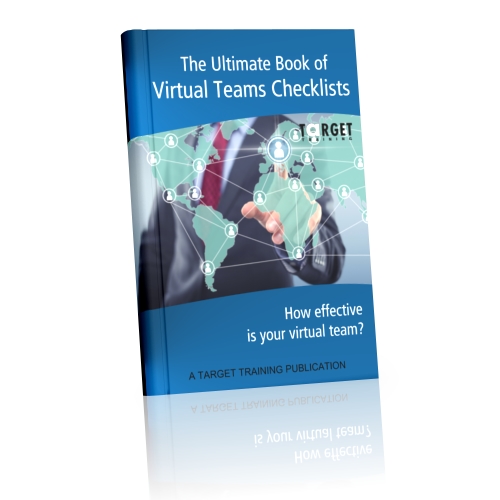 Free eBook download
Virtual Team Success
By Darleen Derosa & Richard Lepsinger
This research-based book is a compilation of practical approaches to virtual teaming. The book contains a number of helpful checklists and best practices that can serve as a guide for virtual team leaders and participants. The behavioral focus of Virtual Team Success will help you to get out ahead of any problems before they happen with no-nonsense advice based on real-world success. If you need to justify the investment of time, energy and resources needed to improve your virtual teams, this book will help you do so. The processes for solving common problems in virtual teams is a highlight.
Mastering Virtual Teams: Strategies Tools and Techniques that Succeed
By Deborah Duarte & Nancy Snyder
The authors of Mastering Virtual Teams have applied best practices, tools and techniques from team theory and information and knowledge management to the challenges of virtual teams. They've organized the information in three, easy to follow areas: Understanding, Creating and Mastering Virtual Teams. Their vast practical experience as professors, consultants and business leaders inform the "how to" approach of the book. The book provides a toolkit for participants, leaders and managers of virtual teams. Practical tools, exercises, insights and real-life examples help you to master the dynamics of virtual team participation with guidelines, strategies and best practices for cross cultural and cross functional work. For example, instead of simply stating "build trust", the authors give us three general guidelines for building trust in a virtual environment. Not surprisingly, these factors work in collocated teams as well. They've included a CD Rom with the third edition as an easy way to print the checklists and helpful documents from the book.
Where in the World is My Team: Making a Success of Your Virtual Global Workplace
By Terrence Brake
Where in the World is My Team: Making a Success of Your Virtual Global Workplace follows the exploits of Will Williams as he makes his way in a virtually enabled workplace and the life of a young professional in London. As a narrative that weaves the best practices of virtual organizations and teams, Where in the World is my Team succeeds in helping the reader to want to go from cover to cover and not use the book merely as a resource document. The book is far more than just an entertaining look at a digital life. The book's very detailed appendix provides researched support for the virtual structures and tools highlighted in the story. Brake's 6 C's of global collaboration provide a logical framework for the needs of effective virtual teams.
Leading Virtual Teams
Harvard Business School Publishing
Leading Virtual Teams  is a quick and easy guide for those who don't need to be convinced to do what it takes to improve their virtual teams, needing only tips on how to do it. The book covers the basics for those beginning their experiences with leading virtual teams. There are references to related Harvard Business publications, a mention of the Harvard extension course on Managing Virtual Teams, taught virtually, and a brief test as a check-on-learning.
The Big Book of Virtual Team Building Games
By
Mary Scannell &
Michael Abrams
The Big Book of Virtual Team Building Games fills a present developmental need for many virtual teams with games that encourage building rapport, solving problems and team skills. The games are designed to be played using various virtual team platforms and are cleverly arranged according to Tuckman's stages of team development–forming, storming, norming, performing—with the additional stage, transforming. Each game is described in detail with the approximate time for completion. Keep in mind that teams with member using a non-native language may take a little longer than predicted.
https://www.targettraining.eu/wp-content/uploads/2013/11/blog1.png
311
1597
James Culver
https://www.targettraining.eu/wp-content/uploads/2013/04/logoWP.png
James Culver
2015-03-04 13:52:48
2018-06-06 12:29:32
Book Review: 5 great books to boost your virtual teams' performance