Our clients have trusted us to deliver practical training solutions since 1994. One of the lessons we've learned over the years is the importance of spotting patterns. Being able to proactively meet our clients' needs adds value and feels right. With that in mind, towards the end of 2020 we began gathering perspectives from our network. We spoke with 94 of our clients, leads and contacts (43 L&D professionals and 51 team leaders). 31 people were interviewed face to face.  The remaining 63 were initially interviewed through an online survey. Some excerpts and the results of the survey are below. If you are interested to read the full document, you can download it here.
The rise in individualised, self service training clearly shifts the obligation onto the learner
Almost everyone who took part in our survey envisaged training increasingly becoming personalised. This means that, for better or for worse, the responsibility for learning will shift to the learner. Employees will be expected to select, organise and take part in training, rather than have management and L&D mandate it and organize it.
"Training will be like scheduled TV and Netflix. Individuals will expect to find what they want when they want it and how they want it. Central L&D departments will be about making helping and guiding learners and scheduling if required. Learning is learner driven. The L&D departments are less needed" N.L. (CEO)
Technology is enabling and driving learning on demand
Almost all interviewees see technology playing an increasingly pivotal role in learning and feelings are mixed. More and more interviewees expect learners to access learning in a range of formats via smartphones and tablets. Many employers will choose this route as a low cost training solution. Some see technology as the driver behind this change, but interestingly a few pointed out that the very human desire to communicate itself is what pushes the advancements in the technology. Either way, technology in training is key to enabling and driving learning on demand.
"I see this digital training world being about learning on demand. Short, focused learning will be the majority. People have a problem or a need and then they find their own solution." G.R. (L&D EMEA)
"I anticipate that the trends I'm seeing today will continue flexible learning, bite sized learning, the fragmentation of learning so that people focus on what they need to know or learn at that moment. This will be software based and virtual … and I feel that the solutions we see today with the big platforms is bullshit, but everybody believes in it. We used to have books and now
we have 'animated summaries'. This isn't learning" K.K. (L&D Manager)
Managers believe their companies will be investing more in learning but L&D professionals believe the opposite
This finding deserves to be explored more. None of the line managers expected to see L&D investment shrink BUT 41% of L&D professionals did. Equally surprising was that 60% of line managers expected to see more money invested in L&D … compared to just 18% of L&D professionals.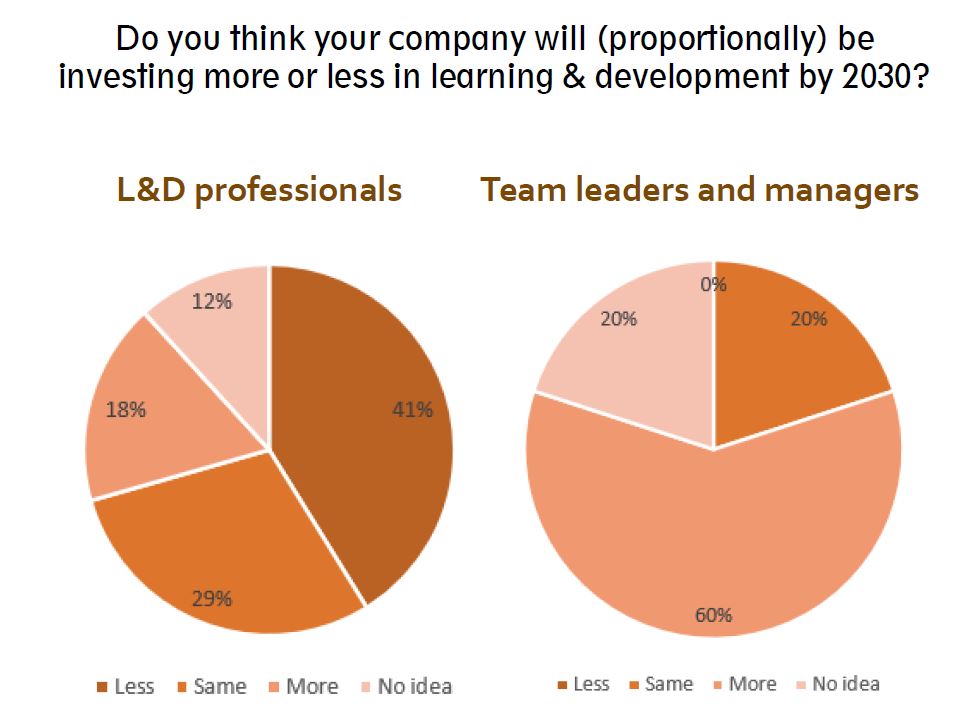 Thoughts are divided on the need to develop English language skills in staff
Both L&D managers and line managers are split down the middle on whether companies will need to be investing in Business English training. Our first assumption was that this was connected to the type of industry, the country or even the company size, but we could not find a pattern with the sample size (of 43 L&D professionals and 51 team leaders, managers and senior
managers).
"We will less likely hire staff who don't have necessary language skills, and if we do we will be looking for a service to bring them up to speed fast so they can perform on the job". D.F. (Technical Manager)
"I hear a lot from our HR that our new hires can work in English. I don't think this is accurate. Some of them have spent a year in a foreign country, and many of them have good English listening
skills. But many of them aren't so called advanced. They don't have the communication skills we need and the emails they are writing just aren't professional enough!" C.G. (Senior Manager)
Download the full version
If you are interested to read more about training in 2030, you can download the full version of the survey here.
https://www.targettraining.eu/wp-content/uploads/2016/08/monitor.jpg
898
1416
Scott Levey
https://www.targettraining.eu/wp-content/uploads/2013/04/logoWP.png
Scott Levey
2022-03-17 09:29:04
2022-03-02 09:31:51
What will training look like in 2030? (survey)